4116-to- 4164 RAM adapter
What is it
The 4116-to-4164 RAM adapter is a replacement solution to replace a 4116 RAM with a 4164 RAM. This adapter is a very small PCB board that can be used to allow you to insert a 4164 RAM into a 4116 socket.
Why
I created this kit as I work on a lot of early 80s arcade games (such as Atari Missile Command, Williams Robotron, Joust, Defender, Stargate, Bubbles, etc.), certain games use 4116 RAMS which are a bit "flaky" they require +5, -5 and +12V and are generally considered less stable than the 4164. Some people like to modify their game boards to use 4164 these by physically hacking up the game board, I really don't like physically modifying boards so I made this adapter that lets you simply plug the adapter (fitted with a 4164) into a normal slot expecting a 4116 RAM. You can even mix and match for example if just one of your 4116 RAMS go bad you don't have to replace ALL of the RAMs like modifying the board would require, you can simply insert one of these adapters (with 4164 RAM (not included) into the needed RAM slot.
What's included and what does it look like
8 pieces of 4116-to-4164 bare PCB boards
4116-to-4164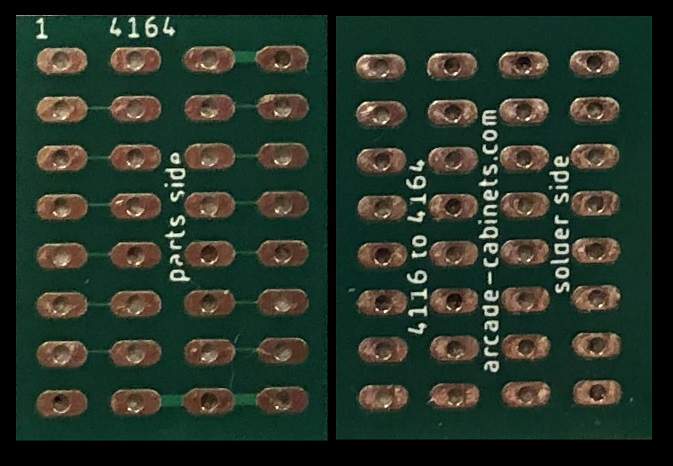 How does it work
It's very easy, follow these steps in ORDER:
Solder on terminal pins on the PCB board (use a socket to hold the pins in place)
Solder on a 4164 RAM, (or solder on a socket and place a 4164 RAM in the socket)
Insert adapter into game board 4116 RAM socket.
Caveats
Only the bare PCB boards are included, you will need to provide your own 16 pin sockets, and 2 x 8 pin terminal strips for EACH PCB board that you want to assemble
Assembly is not included, you must be able to solder these together yourself.
PCB color may vary, shown PCB adapters are green but actual product may be any color.

How do I buy the 4116-to-4164

Buy the 4116-to-4164 at Etsy