SRPB-PRO-6502 - The Single ROM Pro Plug and Play Prototyping Board for 6502 based systems.
What is it
The SRPB-PRO-6502 is an adapter that allows you to quickly and easy convert old CPU systems such as arcade games into single ROM solutions without ANY permanent board modifications. It is a completely plug and play solution.
Why did I build this
Many old games like Atari Tempest Missile Command, Asteroids etc. have TONS of small hard to find and VERY expensive ROMs. Maintaining or repairing these systems can be a pain. A few arcade enthusiasts have created various kits for various games to allow them to be converted to a single ROM solution by buying a custom adapter board or by proving instructions how to physically hack the CPU board to allow for a solution. These single ROM solutions often increase the reliability of the games, and they can often fix non-working boards or help to isolate issues with non-working boards.

I fix and upgrade boards for people and have wanted a fairly universal solution to either upgrade someones games permanently or more often want a way to simply bypass all the game ROMS so I can isolate problems when fixing. This board is a solution I designed to solve both problems.
It allows you to replace all your ROMs permanently in a professional clean manner if you so desire.
It can be used by people who repair boards and want to single ROM the board currently being repaired without cutting traces and making permanent modification to the board.

It is completely re programmable and can be reused on different boards of the same CPU architecture unlimited times.
What type of CPU can it be used with
Features
Allow for users to easily prototype professional and sturdy Single ROM hacks using the existing sockets on a PCB main board.
Comes with a fast re-programmable W27C512 EPROM to store the game code on
Comes with a re programmable GAL8V16 to control the EPROM enable logic
Absolutely NO soldering required, and NO board modifications are needed.
It should be able to use the SRPB-PRO-6502 to single ROM ANY 6502 based board theoretically.
Caveats
There are a few things to be aware of before buying this board
You MUST have a soldering iron and solder to assemble the adapter
You MUST have a ROM programmer that can program a W27C512 (ex. GQ-4X)
You MUST have a programmer than can program a GAL8V16 (ex. TOP2005+)
You must have the needed single ROM game code, which you can create yourself or download.
You must have the needed .JED file for programming the GAL which you can create yourself or download
On games with separate game code, video code and Sound Code, the SRPB-PRO-6502 kit will not be able to single ROM ALL the sections, only 1 section, however many games only have many ROM is the main game code section.
What does it look like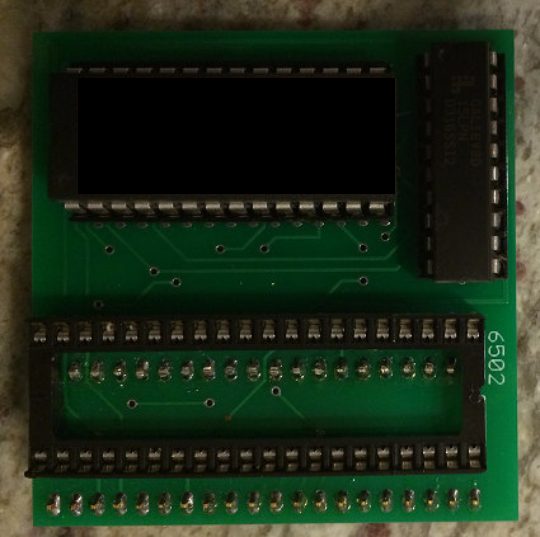 Image shown fully assembled version.
Instruction Manual and Theory of Operation
Where to Buy
Buy on etsy.com
Pre created ROM and .JED files for various games