Problem:
Game does not boot, all static tiles
Troubleshooting/dianosis steps:
Game does not work, customer said board is shorting power out
Found watchdog is dead
LCD is not syncing
vblank is shared between watchdog and POKEY and sync
74LS163 @ 6D (first chip in circuit) pins 14, 13, 12 output OK however pin #11 is dead
Replaced 74LS163 @ 6D, now have watchdog, sync and clock, but only purple and red lines on the screen
RAN a fluke Ram long test 0x0000 - 0x03FF, BTS errors 0x80 - that's 2114 RAM @ 2E, replaced
Now getting RAM DCD errors, manually writing and reading addresses seems to indicate the new RAM is ok, but the low bits on 2F might be bad
Replaced 2114 @ 2F, now have video problems
Video ROMs totally destroyed, many missing pins
Replaced sockets and put in new ROM, still a few issues, found Address line #A5 trace was missing, fixed trace?!?
Did a RAM long for the video RAM range (0x1000 - 0x13FF) BTS errors 0xF0 on addresses 0x1000 - 0x100F, 0x1040 - 0x104F, that's 2101 @ 4N
replaced 4N now video ram test is OK but having sprite errors, will look at that later as graphic issues are troublesome
POKEYS are rusty, sockets are heavily corroded. Pulled one POKEY it basically fell apart (many legs fell off)
Other POKEY is bad
replaced 40 pin sockets for POKEYS, and replaced POKEYS with NOS POKEYS
Sound is messed up, replacing LM324 - no change
replaced 7915 - no change
replace d555 - no change
checking all resistors in sound circuit - OK
found that -12 is at GND, there is a short from -12 to GND
Found shorted taint cap @ C42, replaced, sound problem fixed
There is some gunk all over the edge connector, nothing seems to remove it, used a light sanding block to get it off.
looking at sprite circuits again
Found a bad @ 8D 74LS163 with logic comparitor, replaced. This returned the missing sprites, (pulling it and running caused sprites to show up on the bottom of the screen)
There are still lines through EVERYTHING, both sprites and tiles, so something must be wrong that's common to both circuits.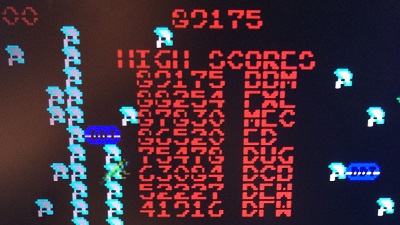 while looking at this the game started coming up with a checked screen
RAM test failed
looks like bad address selection repalced 74LS139 @ 3e, no change
repalced 74LS244 @ 1C/D fixed ram issue
back to the video issues
tried replacing 74LS273 @ 7J no change
74LS174 @ 6L seemed to have bad outputs, replaced, no change
Tested many parts of the video circuits with logic comparitor - no issues found
desoldered all 82S25s and put in sockets so I can test with known good 82S25s (7489, 74S289) don't think this is the issue but it's one of the few things I cannot test in circuit and certainly common to both tiles and sprites - no change, put back originals
Desoldered and socketed the 932422 - no change, put back original
It looks like parts of the graphics are missing
replaced 74LS166 @ 7R - no change, put back original
Started grounding pins on the video ROM, grounding pins in 5Psimulated the missing pixes and lines, as I got closer to pin #14 the lines got closer to the missing line.
rgrounding ping #13 on 5P was one line away, grounding pin #14 showed no change from when it was not grounded
validated connectivity from pin #13 on 5P to the two points it runs to, OK
pulled 74LS166 5L it tested bad in 2 testers, replaced and video looks normal!
Now playing game there is no sound, all mushrooms are on the left and the game restes when you start playing it
self test shows both POKEYS are bad (but they are NOS, and they worked before) so there is probably somethign else wrong
tested POKEY control input feed by 74LS32 @ 4F, inputs to the chip are OK, but the output is not
pulled 74LS32 @ 4F and tested in two testers, it shows bad, replaced!
self test shows pokeys are OK, sound works and game plays!
High score save circuitry is not working
Replaced EAROM
High score works, but NOW the video is messed up, looks like atari 2600 graphics!!!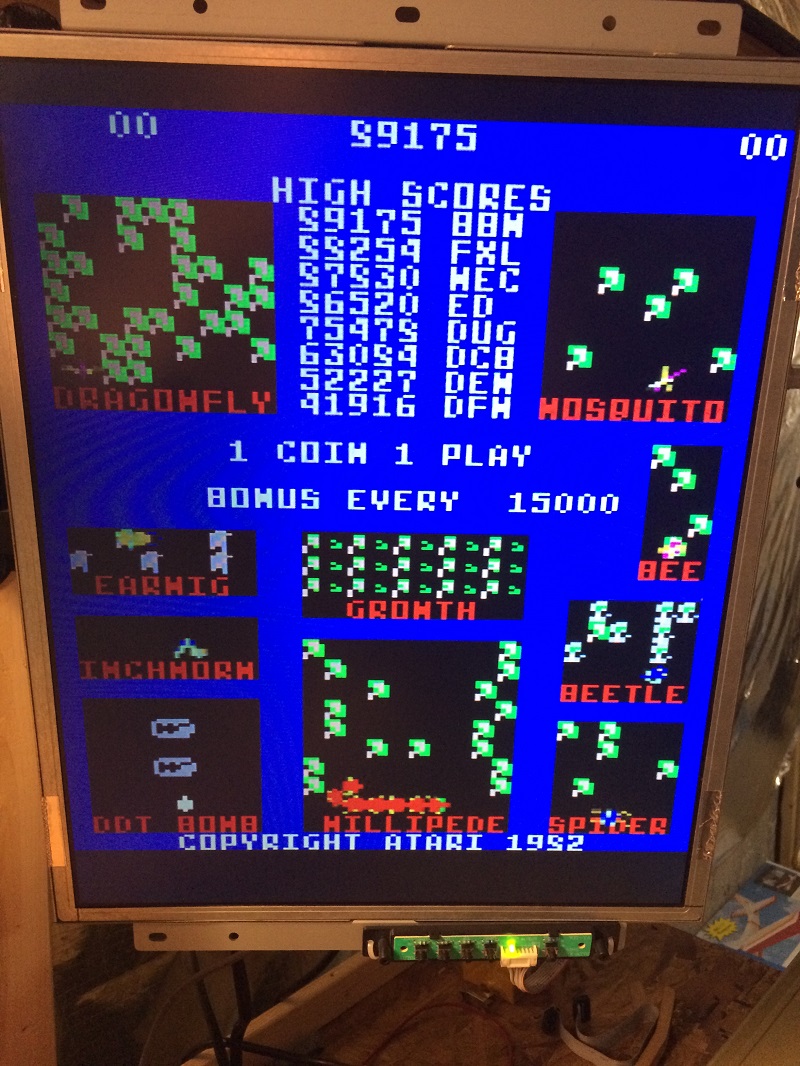 Pulled and replaced 74LS166 @ 7R no change
testing chips in the grahics circuit common to both the sprites and the tiles (since both seem to be affected) 7P tests OK, but missing with it give similar issues.
Grounding address lines for grahics ROMs give similar issues, specifically lines a0 - a2 (or MGA0 - MGA2), found a broken trace @ 6N (not sure how trace got broken all of a sudden... soldered a jumper across the break.
Game works!